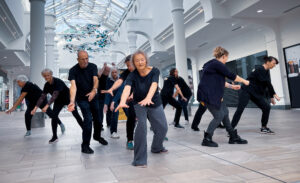 Join our summer series of free Groovin' Well workshops at Unity Hall, Southborough. These are relaxed and sociable gatherings where you will meet people, try something new and get a bit of exercise along the way!
2.30pm to 4pm every Monday from 3 July to 7 August.
Unlike tap or salsa classes in which steps are taught, these workshops offer you the unique experience of creating movements together. It doesn't matter if you prefer sitting down and moving your feet, or 'twisting-and-shaking' all the way to the floor! Everyone will be warmly welcomed. By the end, you'll be working to create movement sequences and telling your stories together.
The sessions are led by a brilliant team of creative facilitators who understand the physical stresses and strains of everyday life – these workshops are open to people of all shapes, sizes, abilities and genders. You don't need any previous experience. We'd love to see you there!
"Everyone was very welcoming… really refreshing."
"I had a great time. I feel really great!"
"I feel liberated."
Practicalities : wear loose clothing that you feel comfortable in, trainers or bare feet, and bring a bottle of water.
WHERE? Unity Hall, Southborough Civic Centre, Council Offices, 137 London Road, Southborough, Kent, TN4 0NA
WHAT TO WEAR? Comfy clothes you can move in and trainers or soft shoes. Bring a bottle of water!
COST? The workshops are FREE of charge. All welcome!
FOR MORE INFORMATION: please email: info@movingmemorydance.com or call Sian on 07714 083258 OR please feel free to just turn up and say hello!